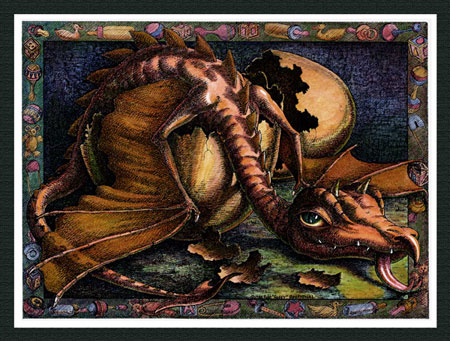 After my youngest daughter was born the composition of the clutter around the house and studio changed. Added to the usual mess of papers, pencils, pens, erasers, inks, chalk, and paints were milk bottles, diapers (clean, usually,) rattles, pacifiers, and toys.
Of course, at this time, babies were on my mind. I liked the idea of drawing a newly hatched, vulnerable dragon. Here would be a new, sympathetic slant on a traditional evil villain.
My biggest challenge was inventing a fun border. I could not visualize an appropriate baby dragon motif. To help me out my wife, Barbara, suggested if I just looked around the room I would find lots of stuff for inspiration. As the border shows–she was right.
I have often been asked if this dragon chick was inspired by Anne McCaffrey's Dragonriders of Pern. The answer is no, it was not. I enjoyed the novels very much, but were I to illustrate a Pern hatchling it would be much more aggressive, active, and hungry. The inspiration for this drawing came from feeling like a new father and wanting to draw a vunerable, new-born baby.